Rated #1 Fashion House in Toronto
By Toronto Blogs
Rated #1 Fashion House in Toronto
By Toronto Blogs
Wide range of clothing options and great prices. Will definitely be returning to this store in the future.
The staff was knowledgeable and attentive. Had a great shopping experience at this Pakistani clothing store.
Quick and easy shopping experience. Found exactly what I was looking for.
Amazing deals and stylish clothing options. Highly recommend this store for Pakistani clothing.
Impressed by the friendly and accommodating staff. Helped me find the perfect outfit within my budget.
Zainab Hussain
2023-04-12
Great selection and amazing customer service. Found the perfect outfit for a special occasion.
LIFE IS SHORT, MAKE EVERY OUTFIT COUNT
At Dhaagay Fashions, our focus is on wearable, fun, and chic clothing designed with your fashion tastes in mind. Whether you're looking for an item we have available in store or you'd like a custom-made dress or gown for your special occasion, we've got what you need to look fabulous. By using only the finest quality fabrics and detailing, we can guarantee that you'll love your style that's traditionally timeless with a modern flair. 
Learn more about us today and visit us in-store to get the wedding dress or special occasion outfit you've been dreaming of. 
Dhaagay Fashions is a luxury South Asian, Pakistani, and Indian dress boutique. We specialize in exquisite, one-of-a-kind dresses that are perfect for weddings, parties, and other special occasions. Our talented team of designers and tailors create stunning dresses that are sure to make you look and feel your best. Whether you're looking for a traditional lehnga or a modern gown, we have something for everyone. Come visit us today and see for yourself why Dhaagay Fashions is the premier destination for elegance in fashion.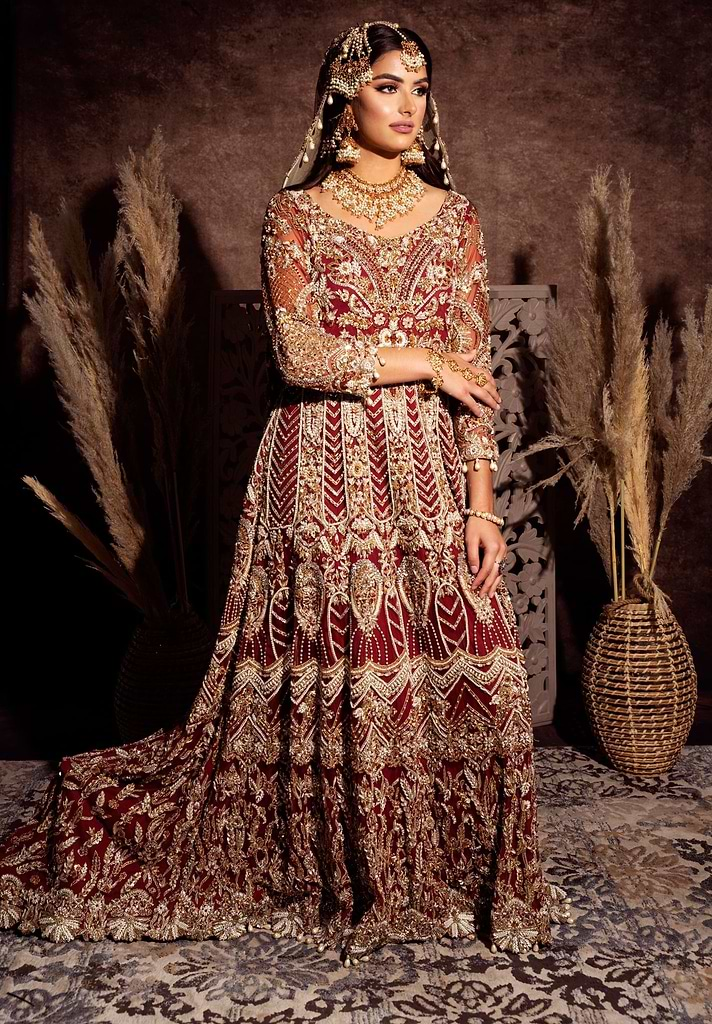 We are a leading name in the world of Pakistani and Indian fashion throughout Canada and around the world. Our store provides a wide range of dresses made from the finest fabrics and embellished with beautiful embroidery, making them truly special. Dhaagay Fashions is known for its attention to detail and dedication to creating the perfect dress for every woman. Our collections are inspired by the latest Pakistani and Indian fashion trends and sure to make you stand out from the crowd.
Unique Jewelry & Men's Collection
Dhaagay Fashions isn't your average women's dress store. In addition to our vast collection of dresses, we also offer an extensive jewelry collection and a unique men's line. Our jewelry selection includes everything from bridal sets to statement pieces to delicate everyday jewelry. Whether you're looking for a new necklace, earrings, or bracelet, we have a wide variety of styles to choose from. Our men's line includes a range of casual and formal wear. From traditional and elegant to casual everyday pieces, we have something for every man. Whether you're looking for a new work wardrobe or a complete outfit for a special occasion, our men's collection has you covered.
Visit Our Exclusive Store!
Dhaagay Fashions has an exclusive retail location in Mississauga, ON, Canada that provides elegant fashion and Pakistani style. Our store offers a wide range of clothing, jewelry, and accessories while also offering custom fittings and dresses. Our knowledgeable and friendly staff at Dhaagay Fashions are always on hand to help customers find the perfect outfit or accessory. Whether you're looking for something special for a wedding or simply want to update your wardrobe, Dhaagay Fashions is the perfect place to shop.